Oregon Humane Society sweeps!
The first thing Gordon Landon noticed walking through the doors of the Oregon Humane Society was how clean it was. "It was orderly, calm, very well-managed and maintained; a comfortable atmosphere for clients, volunteers and animals." Gordon and Darin Barry, owners of The Brews Brothers coffee shop in NE Portland, adopted Isabella Rosselleni, a Snowshoe Siamese cat (featured in Readers Spotlight, Spot Dec. 09) from OHS over a month ago. They immediately fell in love with the feline who Darin had first noticed actually "hugging" a volunteer in one of the spacious cat colony rooms just off the OHS lobby.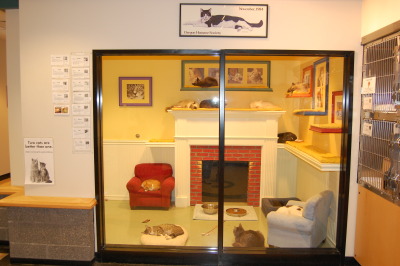 These captivating rooms are something to see. One in particular, created by a volunteer, replicates a cozy living room complete with mock fireplace (very realistic!) and ledges.
OHS "did not have the heartbreak scenario you think of for an animal shelter," says Gordon. The Barry brothers say their adoption experience was also positive. "Way easy and super accommodating," says Gordon.
Experiences like this happen countless times each day at OHS. It's no wonder they chalked up a grand-slam win in Spot's 2009 Top-Dog Awards — not only in the Rescue/Shelter category, but in Adoption as well. In fact, OHS won in SEVEN categories, placing 1st in Adoption, Rescue/Shelter, Pet Care Products & Pet Event; 2nd in Cremation/Memorial and Neighborhood Pet Supply; and third for Training.
A great showing for the oldest humane society in the west and third oldest in the country.
OHS was founded by Dr. Thomas Lamb Eliot over 141 years ago after he witnessed the heartless beating of a carriage horse in downtown Portland. The doctor took immediate action, creating one of the first humane animal welfare organizations. "The Society," as it was called, initially focused was on the plight of draft animals, but in a few short years was advocating for the safety and well-being of companion animals and children. The agency served as the official state child protection agency from 1881-1933. Improving the lot of animals involved teaching humans respect and empathy, and this facet was added to the mission statement in 1882.
In 1918, OHS purchased the acreage on Columbia Boulevard in Portland where it resides today. The original building was destroyed by fire, and the new facility built in 1939 housed the shelter for 60 years. By the nineties, the organization and the community had outgrown its facilities. In June, 2000, the shelter we know today opened its doors.
It was about this time OHS embraced an adoption process based on trust rather than suspicion of prospective adopters, thus improving adoption rates.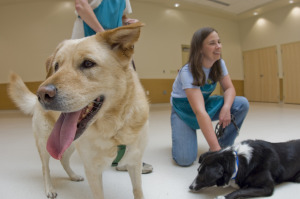 OHS adoption figures are available to the public online and at the shelter. "We want to be totally transparent to the community we serve," says Barbara Baugnon, OHS Marketing/Public Relations Director.
OHS's adoption rates are typically three to four times higher than the national average, all the more remarkable considering this includes animals transferred from other agencies or rescued in neglect cases.
The "save rates" (adoptions plus transfers to other humane groups and reunions with owners) are also stellar: 99% for dogs, 95% for cats and 92% for other small animals. "Since the new shelter opened, the most impressive improvement in save rates has been for cats," says Baugnon. "In 2001, it was 54% for cats."
"There is no time limit that we place on animals available for adoption" says Baugnon, adding, "pets stay at OHS until we can find them a home."
The shelter can accommodate over 200 cats and more than 100 dogs in its state-of-the-art environment. What you can't see when you visit is one of its most important features: the ventilation system. Wherever animals are housed, the air is circulated 14 times every hour. The system is designed to pump out germs and smells and pump in fresh air from outside. The result is maximum comfort for animals and patrons, little odor, and healthier pets.
A major undertaking putting OHS on the national radar in September 2007 was the opening of its Animal Medical and Learning Center, adjoined to the shelter. Involving a partnership with Oregon State University College of Veterinary Medicine, this is the first veterinary teaching hospital connected to a shelter providing 24-hour care for its animals.
The alliance gives veterinary students hands-on experience in their field of study while providing much-needed care for shelter animals. Students complete a two-week residency on a rotating basis, living in dorms above the 4,000 square-foot medical center.
Prior to its existence, staff had to transport sick or injured animals to generous veterinarians who donated their services. "All spay and neuters are now done in-house," says Baugnon. "Eight-thousand so far this year."
The center has room to expand youth education. A "best-kept secret," according to Baugnon, is the shelter's Animal Behavior Training programs, which help dogs become good pets, reducing their chances of being returned to shelter care.
The agency's 3rd place Top Dog win in Training is not surprising when you consider all OHS offers the community. Help is available online, by phone and in person, and the training department offers a wide range of classes and workshops. "We like to think outside the box when it comes to dealing with people's schedules and their pets' issues," says Tanya Roberts, OHS Shelter Behavior Specialist. "You can pick and choose what works best for your situation."
All three staff trainers and one assistant trainer believe that rewards-based training and educating pet guardians on pet behavior is the best way to promote trust between people and pets. Some classes are free, some are not. Discounts are available to new adoptive families, who are advised of class offerings.
"We have worked with so many animals, we know what works, what the triggers are," says Roberts. Classes and workshops change, with offerings added regularly. "It's all community-based," says Roberts.
"The behavior help line is big," says Sue Lay, OHS Training & Behavior Facility Coordinator. She estimates OHS receives five to seven calls and numerous e-mails every day. "We support everyone," Lay says.
Of course a vital element in any successful organization is its people, and OHS undoubtedly is hitting the high notes these days thanks to the more than 1,000 compassionate people lending their time, energy, talents and love of animals. "Volunteer retention is high," says Baugnon. Another indicator of a thriving organization.
From the huge roster of pet-related events offered in and around Portland, the OHS Doggie Dash was voted #1 in a landslide by Spot readers. The 2009 event broke all records for attendance . . . over 3,000 dogs and 5,500 people turned out for the festivities last May. Baugnon says, "Doggie Dash is a great event even if you don't own a dog. You can view hundreds of different breeds all in one area.
While some of their wins are not surprising, the awards for Pet Care & Neighborhood Pet Supply are firsts for OHS. Clearly, Clearly Spot readers have discovered OHS's Best Friends Corner at the shelter, which is filled with a great assortment of reasonably-priced products. "Sit. Stay. Good Dog," aptly named for its location in OHS's neighboring Learning Center, specializes in the latest training products at competitive prices and boasts a knowledgeable, friendly staff. "We have the toughest critics in the land when it comes to pet products," says Baugnon. "With 10,000 pets critiquing the products we know what works." Better still, all proceeds from the retail shops benefit the animals at OHS.