Tips from the Top
Grooming
Spot spoke to this extraordinary group of award-winning professionals considered top in the field of grooming. Here they each offer their TOP THREE TIPS for anyone choosing a groomer, or generally making decisions about grooming for their pet.
D'tails Dog Salon
416 NW 10th Ave Portland OR
503.516.7387
Proprietor: Deena Holeman
Make it pleasurable. Make it routine.Be positive and happy when bringing your pet in. Your emotions travel right down the leash to your pet. Your pet will feel any apprehensions you may have. Walking into the groomers' should be done with a happy spring in your step. Talk to your groomer about the frequency of grooming as a pet groomed monthly is going to be more accepting and comfortable with grooming than one groomed 2-3 times a year.
Check that groomer out.What are their credentials? Ask about education and experience, how long they've been grooming. Do they participate in continuing education? Are they certified? How many dogs per day do they groom (very important-quality over quantity). Do they give back to the community (volunteer, support rescues)? What products do they use (green, natural)? How long do they keep your pet? Is the facility up to date, clean and organized?
Part of the family. Grooming is only one part of the equation; veterinary care, training, exercise and nutrition all play an important role in your pet's well being. When choosing your pet's extended family, look for professionals that mesh well, who believe in the same handling techniques and philosophies, and have the same passion. If you have the same feeling about your groomer as your other care providers you're on the right track.
Personal Note
Since opening D'tails in 2006, Deena Holeman has become a certified groomer, entered the grooming competition ring and brought home several awards. She has attended many seminars and grown her knowledge base exponentially. Her credentials are the best around. She is dedicated to providing her clients more than they can get at any other salon, spa or grooming facility.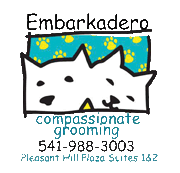 Embarkadero Compassionate Grooming
84899 Tillicum Ave Suites 1&2
Pleasant Hill OR
541-988-3003
Proprietor: Molly Sargent
Word of Mouth.Ask friends, veterinarians and daycares for recommendations. Our business is based on word of mouth referrals from satisfied clients.
Check them out first.Call ahead and arrange a visit with your dog (leave your kitty at home). Does it seem clean and inviting? Are they happy to meet your pet? In our shop the pet comes first. Ask how many pets a groomer averages a day. Eight to 10 baths and clips is a full day. Any more and the animals aren't getting enough attention — it will be very stressful. Are there dogs barking continually? A calm, relaxed atmosphere means your pet will be, too. What's included in the price? Do they charge extra for nails, special shampoos, ear cleaning, etc? Are they experienced in cat grooming? Did you walk out feeling your pet will be in caring hands?
Your dog knows best (Your cat won't tell you)Your dog's first trip to a new groomer might be scary. Does the groomer address his fears? Does she ask questions about him, like bad experiences, medical problems? Does she explain the procedure she will use to make him less fearful? Does she ask for instructions for what kind of clip you want? When you pick up your dog does he seem happy? Your cat will forgive you. And of course, did your pet get the clip you asked for?
Personal Note
Embarkadero Compassionate Grooming, located in Pleasant Hill, OR has been open since 1999. Owner Molly Sargent has been grooming and advocating for animals for 45 years. Working with Molly is expert super groomer Michelle Manzer. Embarkadero is dedicated to kindness and care where the pet's wellbeing always comes first. Services include clipping, bathing, nail trims and brush outs. Also offered is a full line of premium pet foods with free nutritional counseling and of course lots of treats and love.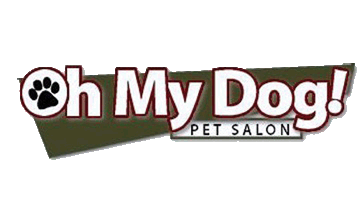 Oh My Dog! Pet Salon
450 Coburg Rd, Suite 206
Eugene, OR
541-343-2536
Proprietor: Richard Wike
Find the Right groomer!Find a place that fits your and your dog's needs. If your dog if fearful of kennels or other dogs, has arthritis, or any other special need, make sure you find a groomer with the means to make your dog or cat's grooming experience the best possible and free of traumatizing situations.
Keep it up!The more often you get your dog groomed on a regular schedule, the less anxiety there will be for your pet, because it will be part of his or her routine. Regularity also means keeping up the condition of your dog's coat, which leads to an easier grooming procedure, and less stress on your furry friend!
Do your Part.Work with your dog in the comfort of your home. Get your dog used to having his/her paws touched; that way when they are at the groomer it's familiar, not strange or uncomfortable. Give them treats and get them used to the blow dryer. Butter your finger and help them get used to you touching their mouth — this helps make tooth-brushing a breeze! Grooming is a vital part of your dog's life and health, and the more you can help make it pleasant for them the better.
Personal Note
Oh My Dog opened December 2008. From the first day, staff has been dedicated to giving pets the best in quality care. Victoria and Sarah of OMD, both having worked in the pet industry for years, take pride in giving every dog the best possible experience. The girls are always on the mission to excel and gain new knowledge about their ever-growing and -changing profession.
The Muttley Crew
806 NW Murray Blvd.
Portland, OR
503-626-8212
Proprietor: Jeff Slaughter
DO NOT bathe your dog at home unless all the mats have been brushed/combed out first.Just like a knot in a shoelace, mats become tighter when wet then allowed to dry. Dematting a dog can be quite painful and time consuming, not to mention expensive.
A matted coat will not keep your pet warm.The mats only hold onto moisture, which not only causes the pet to remain cold, but can cause skin problems.
Buy a good brush and METAL medium-tooth comb.I recommend a Universal brush. Properly maintained it will last a lifetime. When new, Universals are very stiff and sharp. I always tell people to take it to the sidewalk and as hard as you can run it up and down and side to side to smooth the sharp points. The longer you own the brush, the better it gets. Take care not to scratch the pet's skin while brushing. A painful condition called "brush burn" can occur when the brush is used repeatedly in one area, damaging the skin and potentially causing a serious infection. Once you use your brush to break up the mats, take the comb and gently pull out the clumps. You can use the end tines for this to get started. After you've mastered your brushing technique, you'll never have a matted . . . or shaved pet ever again.
Personal Note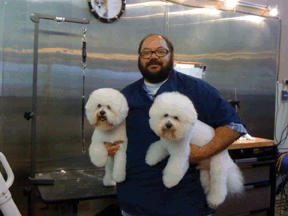 The Muttley Crew, owned and operated by Jeff Slaughter, offers all breed grooming, dog daycare and premium pet supplies. Their credo is that the safety of the pets' care for whom they are entrusted is paramount. The Muttley Crew uses only natural and often organic products. No chemicals are used for flea bathing; Slaughter says a citrus bath works better than anything chemically enhanced. Slaughter and his lead groomer Lori are Certified Master Groomers, with over 66 combined years of experience between them. Slaughter's specialties include Terriers and rare breeds as well as Bichon Frises, while Lori's is the Spaniel breeds. The Muttley Crew won Spot Magazine's 2010 Top Dog Award for Groomer in both the dog and cat categories.