It's Autism Awareness Month - Things to do, people to meet
All Eric and Wendy Givens wanted was to keep their son safe in school. Scooter, who is 9 years old, suffers from autism.
Scooter has a very special friend and assistant — Madison, a highly trained German Shepherd — who makes sure Scooter is a-ok. The Givenses take the dynamic duo to restaurants and malls, where the four-legged angel works his magic. Scooter's condition makes him vulnerable; disturbing sounds can bring on a meltdown. When risks arise, the gentle dog puts his paws on the boy to calm him. If that doesn't work, he gently lays on the boy, which effectively and immediately puts an end to the episode.
Madison spent 23 months in a rigorous and intensive program at 4 Paws for Mobility before coming to Oregon to live with his young charge. Unfortunately these days, the $13,000 canine is spending a lot of time at home, away from Scooter. The Beaverton School District will not allow Madison to accompany his boy to school, a place where active, naturally-noisy children can send Scooter into a tailspin. Wendy Givens says the furry assistant would help her son manage at school.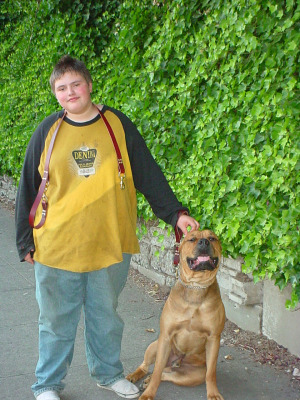 Disability Rights Attorney Joel Greenberg agrees. He compared Scooter's situation with that of a blind person who is told he can use a cane, but not a service dog.
Pris Taylor, executive director of Autism Service Dogs of America, also supports Scooter's quest to have his helper at school. Taylor says there are several hundred dogs serving people afflicted with autism in the US.
The nonprofit Oregon-based group provides trained canines to children and their families living with autism. Taylor says that many cases similar to the Givens's are making their way through the courts, including a recent successful suit in Chicago.
The ASDA believes that the dogs' value doesn't just lie in calming their charges; they believe the dogs provide a positive social link to home, school and community.
April is National Autism Awareness Month.
The Center for Disease Control website states, "ASDs [Autism Spectrum Disorders] occur in all racial, ethnic, and socioeconomic groups, but are four times more likely to occur in boys than in girls. CDC estimates that between about 1 in 80 and 1 in 240, with an average of 1 in 110, children in the United States have an ASD. Autism Awareness Month will be commemorated locally with several events, highlighted below.
Rachel Mitchell McPherson is an author, and winner of an Academy Award for her film Signal through the Flames. She is also founder of The Good Dog Foundation, an organization that provides animal assisted therapy to folks who need comfort and assistance in hospitals, assisted living centers and following catastrophic events. The foundation was honored by the ASPCA and The Red Cross for therapy provided by Good Dog Teams to rescue workers and families of victims after the 911 disaster.
McPherson will speak April 8 at Powell's Book Store in Portland, discussing her new book, Every Dog Has a Gift. The book illustrates the many ways service and therapy dogs, and even household pets, contribute to the lives of humans. "The book has three categories," McPherson says. "Dogs as Healers, Dogs that Change Lives, and Kids and Dogs Equal Magic." Also addressed in her book is how dogs are helping children and adults with autism.
"I love my book; it has so many fabulous stories," says McPherson, adding that she's glad it's making a difference in so many peoples' lives.
"All dogs have gifts," she says, "and what they give to humans is a true gift."
McPherson will also discuss a national contest she's heading up in which pet guardians can submit stories and photos about their experiences with man's best friend. Some will be published in the next edition of her book.
Autism Service Dogs of America is also hosting two upcoming events to commemorate National Autism Service Day. Forever Young, a med spa in Beaverton, is hosting a Red Carpet Charity Event: for the ASDA Saturday, April 10, 8am-10pm. Clients can purchase a $99 ticket and receive a full day of spa treatments and pampering.
April 24, the ASDA will host yet another gala, this one at Portland Children's Museum 5:30-8:30pm. Called Pirates, Princesses and Pooches, this event will have several service dogs in attendance, as well as pirate entertainers, sword play, juggling, balloon animals, and a treasure hunt and silent auction.
While on the subject of autism, there's an amazing young man everyone should meet. Bradley Larios, a teenager with autism, was unhappy with the quality of leashes available for his own helping dog. Too often they unraveled, or broke under pressure.
So, the clever young man designed his own. The custom leashes are super strong, and designed with Autism service dogs in mind. Larios now operates his own company, Brad's Big Bully Dog Leads, and has received accolades from K9 police across the USA.
Spot salutes Brad Larios, Pris Taylor, Rachel McPherson, and all the other heroes, both human and canine.
For more information check out the following links:
Connie Theil is a freelance writer, master landscaper, and lifelong animal advocate and rescuer. Preciously she served on the Multnomah County Animal Safety Advisory Board, and years ago she and her son helped eradicate greyhound racing in Oregon. Connie has recently returned to Spot, and we're thrilled to have her back! Contact Connie at carsonlaura@earthling.net.