New doggy hotel about style, comfort and community
The Murry siblings, Corey, Casey and Jamie, grew up on a farm near Eugene, Oregon. In addition to lifelong animal lovers, they also turned out to be natural-born entrepreneurs. They put it all to the test late last year when the Murry family came into possession of a two-story building in the shadow of I-405 in Portland's Pearl District.
After mulling the possibilities, the three decided that whatever the endeavor, it should be something they were passionate about.
"Ideas kept sprouting up," Corey Murry says. "But we wanted to make sure we brought something different to Portland's pet scene." Corey remembers years ago dropping off his dad's dog at traditional kennel: a cacophony of barking dogs in smelly chain-link dog runs. At the time he says he left thinking, "I never want to have to live through this experience again."
By design, not your typical boarding facility
If you're walking from nearby DoveLewis or Lucky Lab Brewpub you might notice the interesting modern angles of Sniff Dog Hotel, that is if you aren't distracted by water bowls in bright fluorescent stands mounted on the building at snout-level. Contemporary and inviting, the water bowls reflect that not only does Sniff have attention for detail, it's a place that's truly about community.
Bracketing Sniff Dog's stylish, semi-circular check-in desk is a sundries shop (stocked with high-quality edibles, gear and brain-teasing toys) and viewing platform. While the sundries are enticing and the front-desk staff gregarious, it is the scene behind the floor-to-ceiling glass that proves most captivating: puppies romping on faux-grass in the enclosed park space.
All-around glass walls afford visibility from nearly any point on the first floor. So even when you're using one of the two self-dogwash stations, enjoying the breeze from the open garage door (don't worry, the glass walls also keep doggies in and safe) you can enjoy the view of pups chasing, running and tumbling.
Inside the park, a movable barrier provides flexibility and an alcove for those who move at a different pace. Along the sides of the wall are raised dog beds for tuckered Terriers. On the second floor is another play area — the executive lounge — for dogs who prefer playing in a more cozy setting.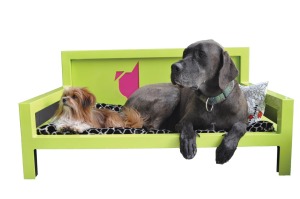 Though the entire facility is made for hospitality, the Sniff's "hotel" accommodations are on the second floor. There are "rooms" for those who desire more traditional boarding accommodations, though not without thoughtful improvements, like solid doors that preserve the spirit of "do not disturb," high-cycle air filtration for air "fresher than many office buildings," and ambient music playing from hidden speakers.
For the more discriminating, there are Sniff's Junior Suites; climate-controlled rooms with tiled walls, a lockable glass door, raised bed and flat screen TV (for music or puppy's favorite shows).
Along the exterior wall are Deluxe Suites and the Penthouse. Deluxe Suites boast 70 square feet of climate-controlled comfort, with a floor-to-ceiling view of the neighborhood and a flat-screen TV. The Penthouse is even larger, and its extends to a skylight.
"So," Casey jokes, "dogs can howl at the moon."
Across from the TV it is a webcam that allows pet parents to remotely see firsthand how their beloved is enjoying his or her accommodations.
In keeping with the tone there is a salon and spa for pooch pampering, and a commercial-grade kitchen. The dietary needs of each guest are tracked with daily reports and each guest's belongings are kept in labeled cubbies.
"The most important thing is the health and safety of our guests," Corey says. Because there are so many different breeds from so many different backgrounds, he says, "We try to truly understand the situation . . . that's how we built the facility, so we can handle all dogs."
This comprehensive approach to facility design extends to Sniff's way with activities. Dogs not into the dog-park social scene can use the upstairs play area for one-on-one time with humans. Dogs who love a good walk enjoy jaunts through the smell-rich NW neighborhood.
Mindful of his long-ago experience with boarding, Corey wants people to walk out the door looking forward to their vacation and feeling good about their pup's accommodations.
While creating this versatile and inviting canine hotel, the Murrys began to realize Sniff had the potential to be much more. "It's a social place," says Corey, "not only for dogs, but for people as well."
Thinking human community, the Murrys turned an un-utilized area of the building into a cafe that opens out onto the sidewalk. In mid July, just two months after Sniff opened, the Sniff Cafe opened its doors just around the corner from the main entrance.
Casey Murry, proprietor of the light dining establishment, is proud of the locally-produced coffee, beer, wine, and baked goods. Here you can enjoy a Golden Retriever (caramel latte) made with Water Avenue espresso while gazing through into the interior dog park. Occasionally the dogs break from playing to run to the windows for a little observation of their own.
The mix of locally-crafted drinkables and edibles with the simple pleasure of watching dogs do their thing yields a quintessentially Portland experience. Here, you don't even have to have a dog to enjoy the simple pleasure of community, coffee and canines.
Sniff Dog Hotel and the Sniff Cafe are open from 7-7 weekdays, 9-7 Saturdays, 10-6 Sundays. Learn more at www.sniffdoghotel.com.
Jake Faris is a freelance writer who's worn many different hats, including a hardhat and the 8-point hat of a police officer. Jake and his wife Charity live with their three cats and four dogs in Beaverton. The whole pack moved to Portland from Wenatchee, Washington, years ago. Now a dedicated Oregonian, Jake finds new reasons to love his adopted state very day. Contact him here.