Emergency vet opens in Beaverton
Until now, options for after-hours urgent veterinary care on the west side have been few and far between. That's changing, with the Jan. 22 grand opening of an emergency clinic named Tanasbourne Veterinary Emergency. Dr. Shawn Thomas, owner and chief veterinarian, has been seeing patients at the clinic's Tanasbourne location since mid-December, opting to wait until after the holidays to host an open house and officially open the doors.
Thomas wanted to provide the metro area's west side with a facility that could handle real-life emergencies anytime, which means operating at unusual hours. Other than special occasions, like this month's open house, Tanasbourne Emergency will be open Monday through Thursday 5pm to 8am, then opening Friday at 5pm and remaining open 'til 8am Monday. Though it means working odd hours, owning his own emergency veterinary practice is what Thomas has always wanted to do.
Caring for animals has always been part of Shawn Thomas's life. Growing up, as he puts it, "in the middle of nowhere" near Grants Pass, his family always had animals. "Dogs, cats," Thomas runs down the list, "pigs, sheep, goats, geese, cows, rabbits and, at one point, we even had emus."
Caring for their animals was a priority, and sometimes that required a little common-sense resourcefulness. "You couldn't afford to call a vet each time you needed one," says Thomas. He remembers his mom, who was a registered nurse, stitching up a dog's beaver-fighting injuries with a regular needle and thread. The experience stayed with him.
Thomas aways knew he would be a vet. What he didn't anticipate was the passion he would develop for emergency care. That grew while working at VCA Salem Animal Hospital, where he practiced veterinary medicine for the 3½ years prior to opening Tanasbourne Emergency. While VCA Salem wasn't an emergency clinic, it was the only clinic open on weekends in south Salem, so Thomas saw his fair share of urgent cases.
"I saw everything from gunshot wounds to ruptured lungs to animals hit by cars," says Thomas. But as much as he loved helping pets and owners in Salem, Thomas and his wife, Christina Fera-Thomas, wanted to return to the Portland area, where they had lived while Thomas completed his undergraduate degree at Pacific University.
This is where we wanted to be," Thomas says. The couple began constructing a business plan which, in this case, literally involved building the practice from the ground up. Implementation has been challenging, he says, though friends and family in the construction trades have made the trek to help.
"The plumbing, electrical, floors and HVAC are the only things we haven't done ourselves," says Thomas. As proud as he is of turning the 3500 square-foot storefront into a functioning animal hospital, Thomas is eager to trade in his tool belt for his stethoscope.
With the final touches done, the doctor looks forward to finally applying all he has practiced, studied and experienced. As his own boss he can bring a family focus to emergency medicine. "I don't care what it is, I don't care who it is, let's get [the pet] seen," he says, while maintaining that "trying to make [emergency medicine] as family-oriented as possible" remains his priority.
The clinic's mammoth x-ray machine is a perfect example of a unique characteristic of this doctor and his practice: here you'll find equal parts 21st Century technological know-how and ranch-house resourcefulness. The machine, dating from 1989, came from a clinic in California. Next to it is what looks like a fax machine out of Star Wars.
Digital x-rays are significantly more useful and convenient than traditional films. Veterinarians can adjust an image's brightness with the turn of a dial, or send an image to consulting doctors with a few clicks of a mouse. But cutting-edge x-ray technology is outside of most budgets. Thomas found a way to combine an older x-ray machine with a reusable film system that scans the exposed film into the clinic's computer system.
Resourceful and high tech.
Of course diagnostic tools don't stop with an x-ray machine. There's an endoscopy scope that checks for digestive tract obstructions, a blood lab, and a computerized monitoring system that keeps patient treatments from falling through the cracks. Other safeguards include crash carts, two isolation rooms for infectious diseases, and separate feline and canine wards.
But behind all those tools is the skill and knowledge of Dr. Thomas and his friendly staff. To meet them and check out the westside's new emergency clinic, stop by 2338 NW Amberbrook Dr on January 22, or visit them online at TanasbourneVetER.com.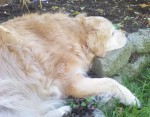 Jake Faris is a freelance writer who's worn many different hats, including a hardhat and the 8-point hat of a police officer. Jake and his wife Charity live with their three cats and four dogs in Beaverton. The whole pack moved to Portland from Wenatchee, Washington, years ago. Now a dedicated Oregonian, Jake finds new reasons to love his adopted state very day. Contact him here.