The Boxer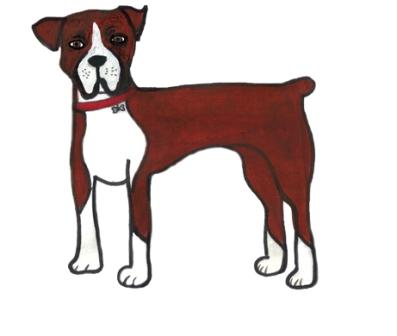 Interesting Fact: According to the American Heritage Dictionary, the breed is called "Boxer" thanks to its supposedly pugnacious temperament. It is believed the Boxer was developed in Germany to serve the multiple purposes of a guard, working and escort dog.
Personality: This legacy has led to a playful, happy, curious canine full of energy. They bond well with their families and are great with children. Very courageous, the Boxer is a great guard dog. Smart and loyal, they have also served as guide dogs for the blind and as K9 cops. One caveat: Boxers should not be left alone with chickens or the like, as they will be tempted.
Preferences: These athletes want plenty of exercise; without it they may become edgy or unhappy. The Boxer loves being with family, and should be provided room and toys when left alone.
Size: 50-70 lbs Life expectancy: around 10 years
Common Health Problems:Cardiomyopathy and other heart problems are frequent, and a more daily concern is the Boxer's tendency to overheat quickly. They should always have plenty of water, a place to cool off, and never be left unattended in a vehicle.
Best Match: Boxers need consistent leadership and positive reinforcement training. The Boxer is intelligent and willful, and so needs a confident, firm, yet upbeat owner — who in turn will receive lots of affection.
Featured Adoptable: "Dozer's story is sad," says Kylie Belachaikovsky, Volunteer and Community Outreach Coordinator of Lane County Animal Services (LCAS). "He is a handsome Boxer mix (we think with Rottweiler). LCAS has had tremendous success adopting purebred Boxers with special needs, and we hope Dozer will be as lucky. Originally found/impounded/adopted in Linn County, Dozer was again found stray and is now at LCAS. He is loveable and friendly, but bouncing from home to shelter and back again has taken a toll. His typical youthful Boxer enthusiasm and energy are ratcheted up a notch; he jumps all over and mouths people as if they were fellow puppies. Dozer is in vigorous training at LCAS, learning manners, impulse control and positive ways to seek attention — in other words, he's getting the schooling he missed as a "kid," aka, a manageable-sized puppy!"
Dozer is the second Boxer LCAS received in two months, both needing serious behavioral intervention. LCAS recommends early positive training. Kylie says the Freedom No-pull Harness is fantastic for teaching these big, exuberant goofballs how to behave without force or intimidation, adding, "After all, the joy of Boxers is their funny, clever and almost-human personalities.' Fun, positive training builds the guardian/dog bond while promoting good behavior. Freedom Harnesses are available at Wags! Dog Emporium.
Megan Mahan lives with visiting foster animals, quite a few fish, and her boyfriend in Eugene, Oregon. She is excited to now be with Spot full time, and devotes much of her free time to fostering pets and creative writing. From her high school gig as Dog Bather to her more recent years working at the Santa Cruz SPCA where she was contributing editor of the newsletter, Megan has always lived, loved and worked with animals.
485 Coburg Rd, Ste. G, Eugene, OR
541-338-8801