Local Doc Champions Spay/Neuter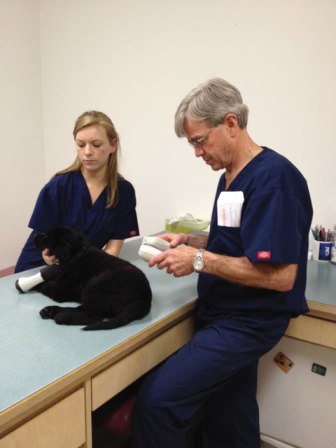 Who says an old dog can't learn a new trick? Certainly not local vet Ken Genova!
At 66, with 38 years in practice, Dr. Genova is best known as the owner of Tigard Animal Hospital (TAH) and Village at Main Pet Hospital in Wilsonville. On August 31, however, he added two new practices to his name, The Pet Clinic in Salem and Dr. Bauman's Veterinary Hospital in Newport.
The expansion means he'll now be splitting his time between four locations, but Genova has already worked out his schedule. "I like the beach," he says with a grin.
In addition to fresh acquisitions and Oregon beaches, the business-minded Genova enjoys new technology. The wiry, bespectacled vet beams when he talks about lasers. In the large treatment room at TAH, a tech moves a small purple light over an arthritic Chihuahua; Genova notes that the 18-month old device is the only one in the Northwest. He uses lasers for everything from joint pain to allergies. The latter involves placing the allergen over the patient's thyroid and shining the laser through the substance, a method that cured his son's lactose intolerance. "Nobody else is doing [this]," says Genova. "We never had a way to cure allergies; we were always controlling."
While he gets animated about entrepreneurial growth and medical advances, Genova grows solemn on the topic of spay/neuter. He discusses the risks: cancer in both males and females, unneutered males that roam and get injured, shorter, unhappier lives driven by reproductive instincts. He rails about pet overpopulation, saying, "it's not fair to the ones who are going to be born with no place to go. It's not fair to put animals down just because no one was paying attention."
A few years ago, Genova's practice found ways to lower sterilization costs, which Kathie Nelson of Oregon Spay Neuter Fund (OSNF) says earned him a rep as a "renegade" among other vets. His prices, $49 for males and $60 for females, plus a $10 pain management fee, sit far below market rate.
But Genova's staff insists he is not going rogue or undercutting the competition, he is simply removing economic and other barriers to save future generations of animals. In addition to cheap spay and neuter, Genova's clinics are feral friendly and flexible. Says TAH Office Manager Debby Marshall, "If you catch the cat, bring him in."
Despite two thriving hospitals and the new expansion, Genova has suffered emotionally, if not financially, with the poor economy. He says he sterilizes fewer cats than he did before April 2009, though his dog numbers remain steady.
"Prior to the recession, we were seeing a lot of cats. Now it's going backward," he says. The Animal Shelter Alliance of Portland (ASAP) reports a 24% drop in Metro-area cat euthanasia between 2006 and 2009, but statistics are not yet available for this or last year last. Nelson of OSNF echoes Genova's concerns about increased cat euthanasia in 2010-11.)
While the challenge is ongoing, Genova praises the animal welfare community for 20 years progress around spay/neuter. "In the past nobody did anything about it," he says, recalling rampant euthanasia of unwanted pets. The early '90s saw the spread of community spay days and, "around 15 years ago pet adoption groups began [fixing] animals before adopting them out." Early spay/neuter is widely accepted now, says Genova, who alters puppies and kittens at eight to 12 weeks.
Genova hopes Oregon Humane Society's new on-site spay/neuter facility and the $10 Spay and Save vouchers from ASAP (funded by the national Doris Day Animal League) have absorbed his lost business; either way, he urges cat owners and feral cat caretakers to fix their felines.
As he settles into Newport and Salem, Genova says he intends keep sterilization costs low and to do face to face outreach. He plans to connect with local nonprofits and citizens, using word of mouth to preach spay and neuter, much like he did after TAH opened in 2000. He's already met with a Newport resident who had 200 cats altered last year, and hopes to link into her network.
Originally from Michigan, where he taught emergency veterinary medicine, Genova moved to Oregon in 1998, relieved to be free of the harsh winters. He lives on 20 acres and counts among his family nine horses, four chickens, four cats, three dogs, a wife and three human children. He tries not to work on Sundays so he can spend time with them. Though retirement would be a new trick for this doc, he is not planning to master that one, he says, quoting Warren Buffett, "until five years after I'm dead."
Meryl Lipman is a freelance writer and PR consultant. She is owned by a 12 year-old feline, Dagny.