Pet people love Stay Pet
Celebrating four years in December, you could say Stay Pet Hotel is still a "puppy," but winning #1 Top Dog in Boarding for the second consecutive year shows Stay is clearly leading the pack.
"We never thought we'd be where we are today but we are proud of what we've accomplished," says owner, Kim Hormby. "We are so thrilled to win again!"
Hormby and her husband James Taylor started Stay Pet in 2006 after the success of their mobile playgroup, Waggin' Wagon. Years of experience and input from clients helped them create a unique "home away from home" for dogs.
It all started with one dog. When Hormby got Maggie, a Rhodesian Ridgeback mix, she fell in love. "She changed my life . . . and my profession," she says. She left the corporate world to become a veterinary assistant. Wanting to offer a service she loved and that would enhance the lives of dogs and their humans, Waggin' Wagon was born. "Since my very first pet-sitting client I have built the business on the premise that every dog we take care of is a member of our family," says Hormby.
Much effort goes into getting to know guests' needs, and really listening to the "parents" is a priority. Schedules emulate home routines as much as possible in diet, medications, toys, exercise, and love. The folks at Stay don't charge extra for that; they believe it's all part of their guests' daily needs.
Exercise and fresh air are priority, and guests enjoy plenty of romp time in spacious indoor and outdoor play yards. More timid pups get private playtime with dedicated staff. At the end of the day, each happy, tired pooch relaxes in his/her own suite, some with imported beds and flat-screen TVs (if that's your dog's thing). For those who want even more luxury, the menu includes spa treatments, gourmet treats and more.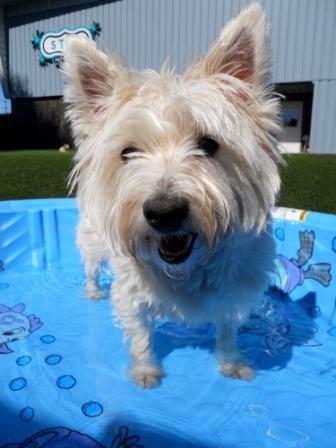 In addition to winning for Boarding, Stay Pet Hotel also received votes in this year's Top Dog Awards in Daycare, Pet-sitting, Playgroups, Dog wash and Events. Not surprising, when you take a peek at what's on tap: Stay's new mobile playgroup is a mix between doggie daycare and dog walking in which pups are picked up in the morning, get to play all day with furry friends, and get dropped off tired and happy later in the day. Stay's popular Paw-tys allow pets and people to get out for some fun, check out the gorgeous ½-acre facility, while supporting worthy causes such as Fences for Fido, PAW Team and The Pongo Fund Pet Food Bank.
Kim, James, and their well-trained, canine-loving staff understand dogs and their people, making this little "puppy" a Top Dog. "The fact that so many happy clients vote for us and tell other people about Stay is truly our biggest reward, and guideline for letting us know we are doing it right!" says Hormby.
Stay Pet Hotel is located at 3606 NE Columbia Blvd. in Portland, OR. Contact them at all 503-288-STAY (7829) or www.staypethotel.com. Click here for Top Dog profile.
Vonnie Harris is a freelance writer, and operator of BowWows & Meows Pet Services of SW WA. She and her brood, Jake and Jessie, both yellow Labs, and parrots Pedro (Yellow-Nape Amazon) and Lorali (African Grey) reside in Vancouver. Vonnie also is "the face of Spot" at many Portland-area pet-related events. Contact her at vonnie@spotmagazine.net.